Proposal in the Vines // Chantelle Price & Tanner Stanton // Engagement
When Tanner approached me to photograph his wedding proposal in the vines to Chantelle at Polperro Winery I was so excited. Not only was this my first proposal but I'd known Tanner's parents for years so it was really lovely to be involved. We set about planning the surprise with Tanner taking Chantelle out for a whole day of events, lunch in the city, Strawberry picking in Red Hill, followed by wine and dessert at Polperro, where the proposal would happen, then staying the night at Flinders in Chantelle's uncles holiday house. Tanner had every detail sorted, the ring of Chantelle's dreams organised and lucked the most perfect sunny day, what could go wrong!
The Proposal
Everything seemed to be running smoothly. Tanner and I were in constant texting contact. He was so nervous! When I arrived I headed down towards the venue. I could see them sitting in the chairs under the big tree having a glass of wine in the sun. Chantelle seemed oblivious of the events unfolding around her and was really relaxed and enjoying the sunshine.
Sneaking down the path, with my cameras hidden beneath my long blazer, I was nearly out of sight when I heard a yell and a big crash coming from behind me on the path. Turning around I found a lady sprawled on the pathway, hysterically laughing. Her friends were trying to help her up, they were all quite drunk, loud and having a great time. I was like a rabbit caught in the spotlight. Turning around both Tanner and Chantelle were looking straight at me. Tanner had gone white. I casually laughed and kept walking straight into the venue.
My only saving grace was that I'd never met Chantelle so was pretty confident she wouldn't recognise me, which thankfully she didn't. Two minutes later Tanner came into the restaurant shaking his head. He was like "I can't believe that just happened", we laughed, then I said OK are you good to go and he was like yes and explained what he intended to do. He heading back out and I took up a position hiding behind a tree ready to pounce!
So I'm standing there waiting for Tanner to make his move when I look to my left and see a huge table of around 20 women staring at me. They were all pointing then looking at Tanner and Chantelle. They had guessed what was about to happen. I madly started shushing them and trying to tell them to not look. They were a few wines in but finally registered and behaved themselves whilst avidly watching the couple. So finally Tanner gets up, takes Chantelle's hand and they walk towards the vines.
Popping the Question
His intention for his proposal in the vines, was to walk down the vines a way then drop to one knee and propose. They start walking and I can see they are talking. I start to sneak out of my hiding place and follow them down. I'm about 10 metres behind them when they abruptly turn and start walking towards me. OMG, I dive left and run three rows down and hide. Somehow Chantelle doesn't see me. They come back up to the top of the vineyard and start to take a selfie. I'm like what is going on. Apparently there was a sign at the start of the vines saying beware of snakes! Chantelle had spotted that and flatly refused to go any further and promptly headed back out of the vines. What more could go wrong!
The table of ladies were giggling at me commando running around and trying to work out what was happening. I'm rolling my eyes at them, I'm sweating, I really don't want to stuff this up. Then I'm peeping through the vines and suddenly see Tanner go down on his knee. I run as fast as I can up and around to the front and get there just in time to get her stunned expression and the rest you can see in these beautiful images.
Chantelle said YES! by the way, the table of ladies cheered and cried, people came from everywhere to congratulate them, then venue manager arrived with champagne! What a finish.
It's amazing she never suspected, and we laughed about it afterwards, but what an incredible moment in their lives and so awesome I managed to capture their proposal in the vines for them, despite everything that happened. I think Tanner and I deserved a stiff drink after that but the huge smiles on their faces made it all worthwhile.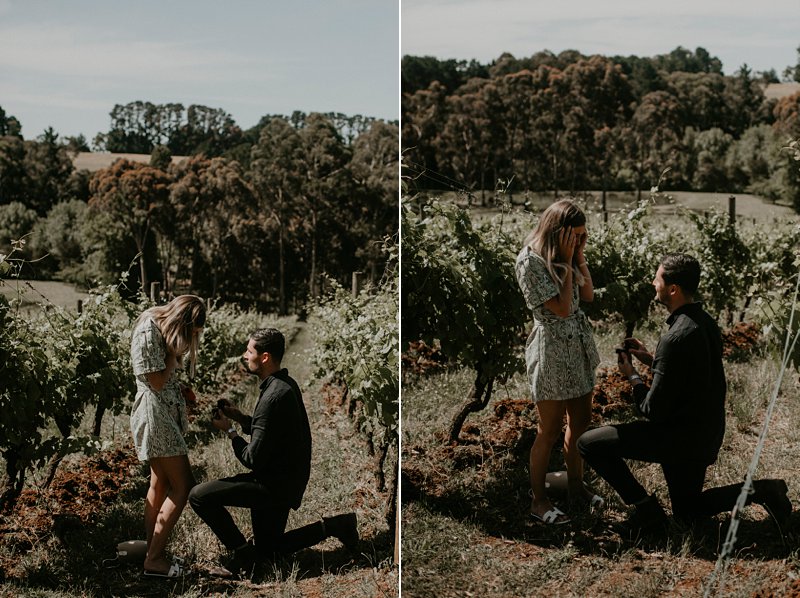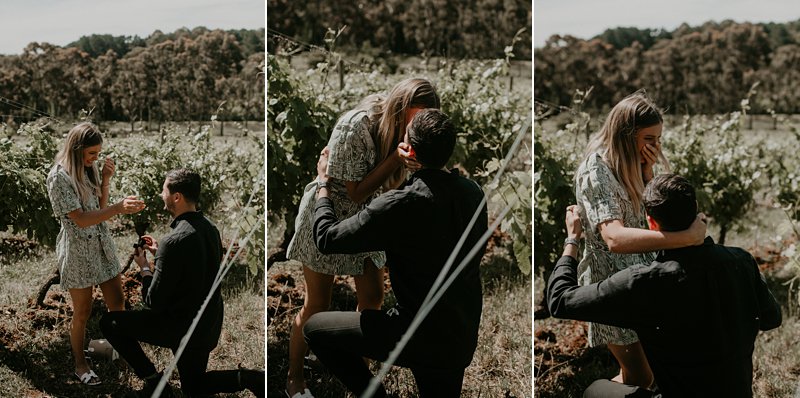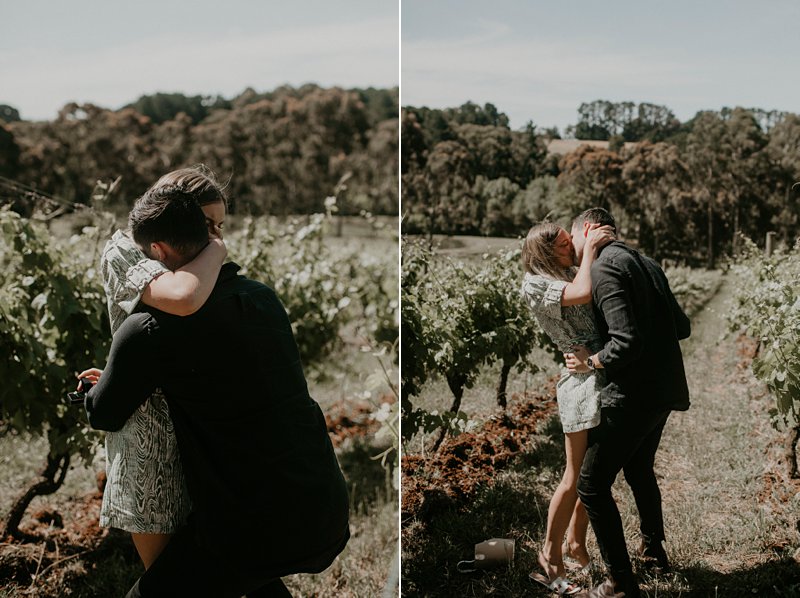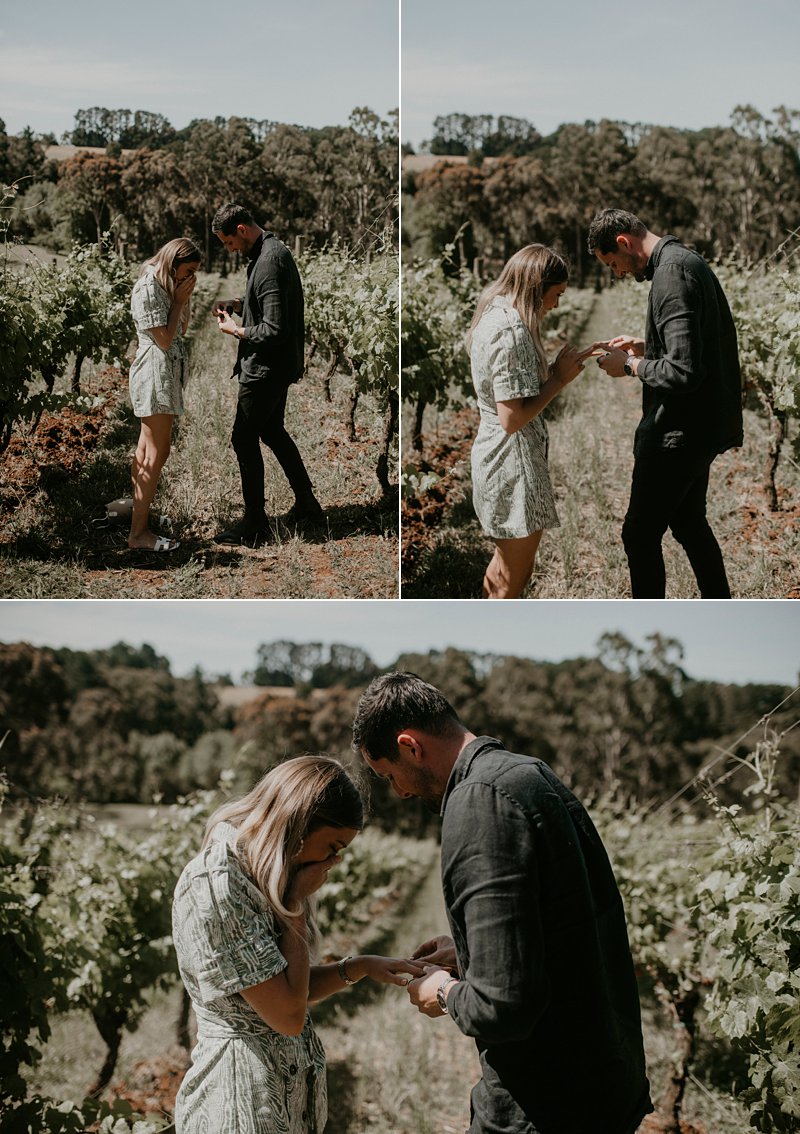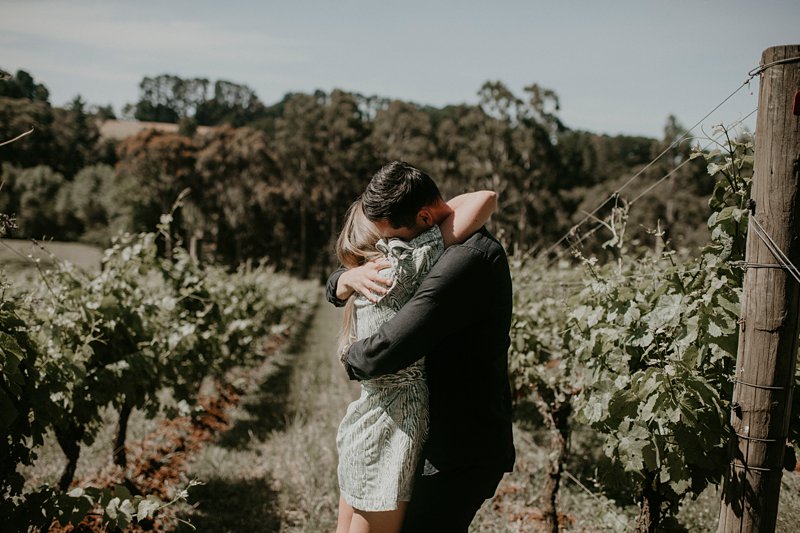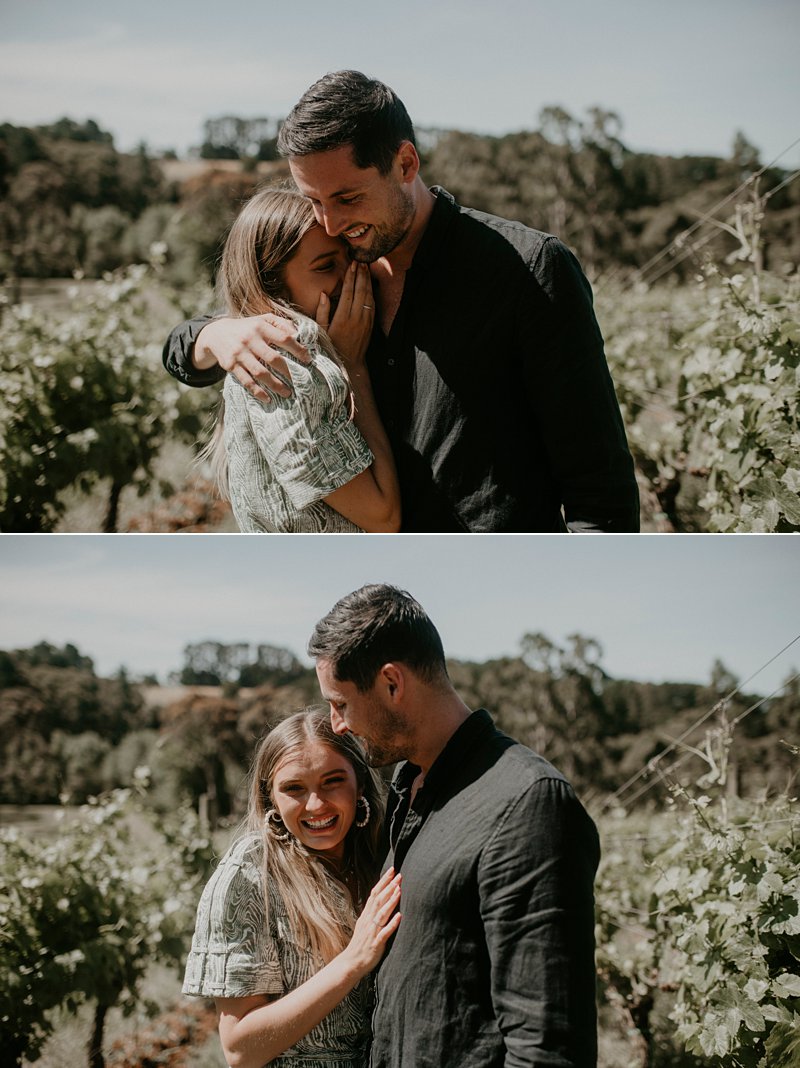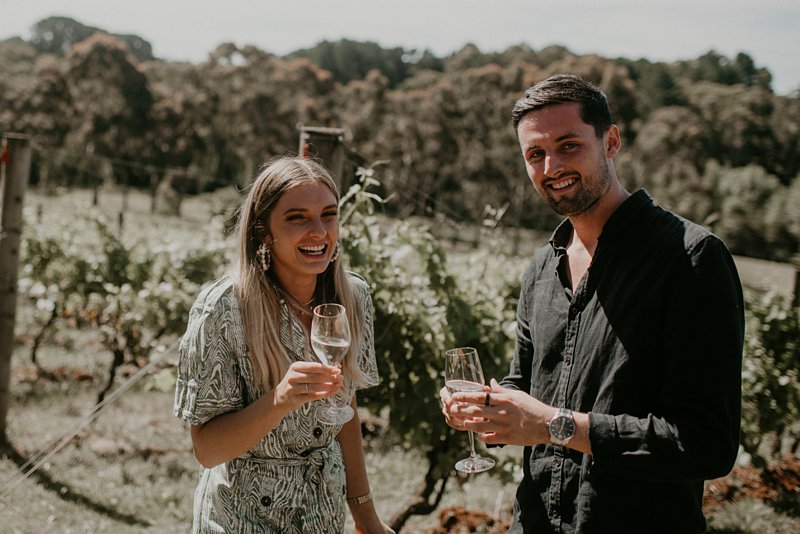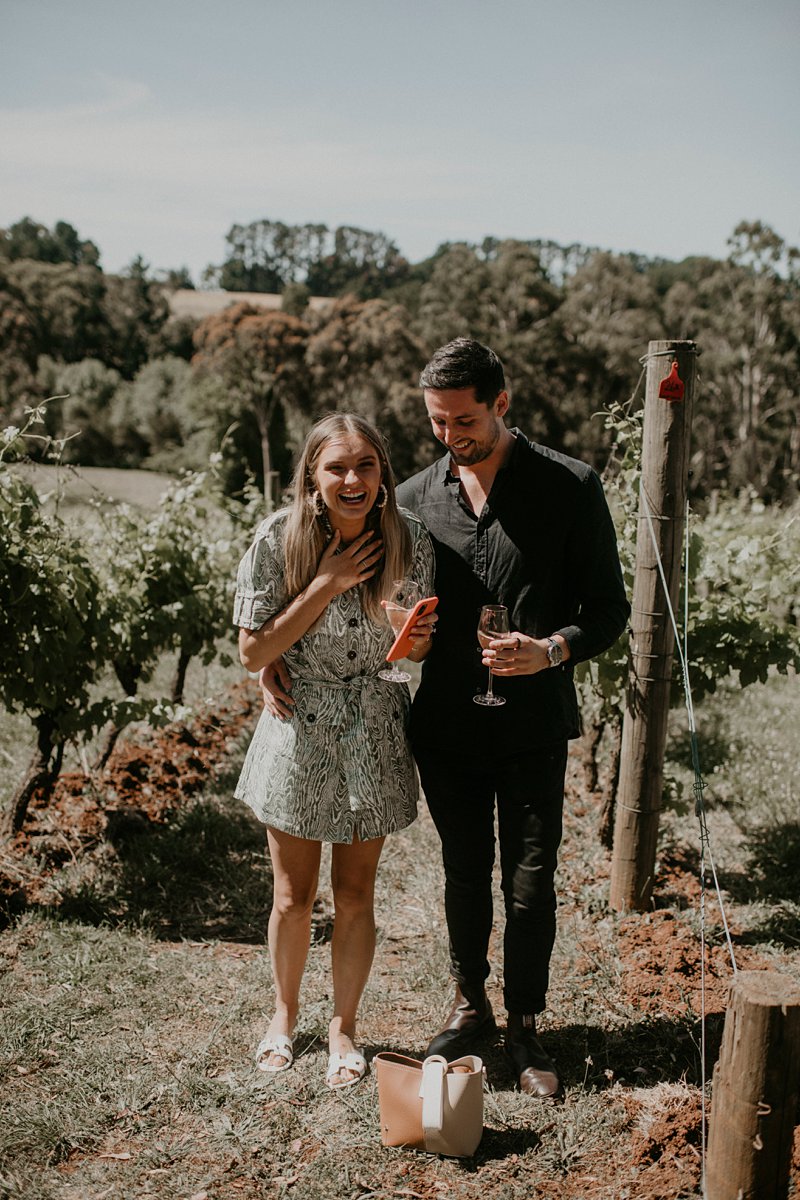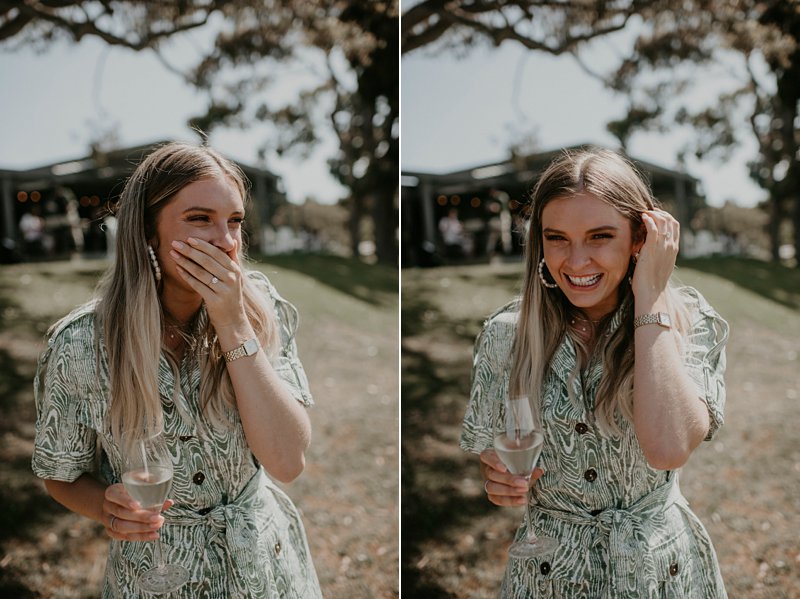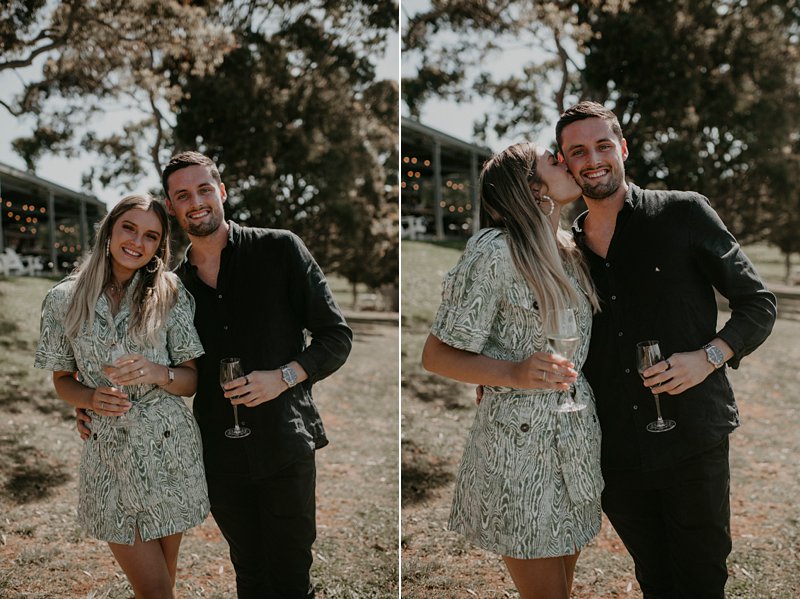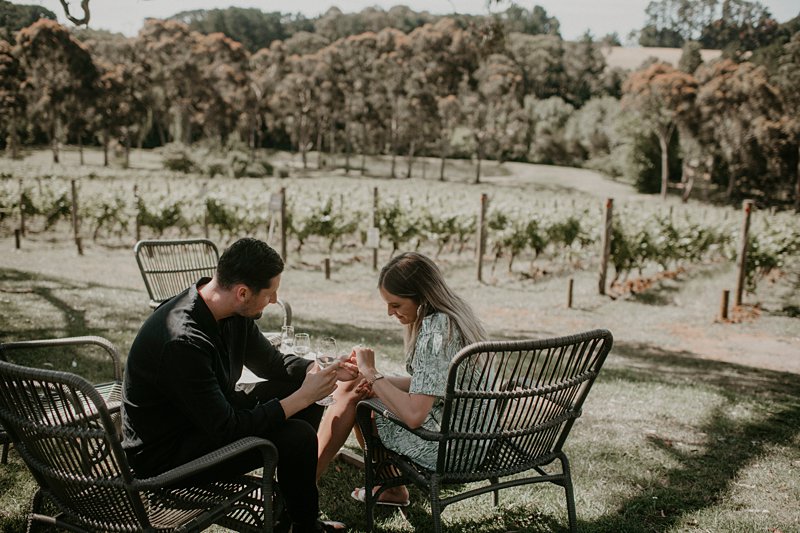 The Engagement Shoot
Afterwards I followed them to Chantelle's uncles house to get some more shots of them just being together and enjoying the moment. It was incredible. The light and sun that was streaming through around the property was just amazing. Chantelle did a quick change into yet another stunning outfit and we got started. It's pretty hard to take a bad photo of these two so what I really wanted was to capture their love and their happiness at this incredible time in their lives. Chantelle pretty much couldn't stop looking at her ring then smiling at Tanner so the moments just kept happening and the stunning shots just kept evolving as natural real moments.